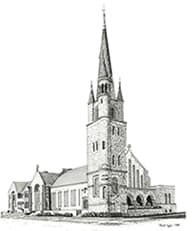 On May 23, 2010 the congregations of McKinley UMC and Central UMC came together to worship at Windom Park in Winona, MN. It was their first worship together to begin the merging of the two congregations into one new "reborn" congregation. Over the next two years the mission statement of "Love God. Love People." was formed and then on May 6 2012 the new name "Wesley United Methodist Church" was chosen for this reborn congregation.
We are in the midst of discovering who God is calling us to be and we invite you to come join us in this discovery as we worship God together.
---
Read More About the History of Wesley UMC
In the spring of 1855 the First Methodist Episcopal Congregation was formed in Winona with five members. By the end of the first year it had 54. It was known as First Methodist for many years before being called Central Methodist and now Wesley.
On June 9, 1867 John Bally and a group of fourteen concerned people met to found a Sabbath school for children in the west end of Winona. The children lived too far away to walk to the downtown churches. The first year there were 29 scholars and the second there were 41. The school was held in five locations during the first two years. A new chapel dedicated in December 1869 cost $1300. They had 190 enrolled at that time. It was paid for by the YMCA and several other churches.
One Sunday snow drifts were too deep for the children to come, so Bally persuaded a father to send out men and teams and ploughs to bring the children to the chapel. Reverend McKinley mentioned in his 1914 church dedication: For their service Mr. Bally with characteristic candor and good will said, "Since you have made a way for the children to get to Sunday School, I will promise that the Lord won't send you to hell for working on Sunday."
John Bally owned a book store on Second Street. He had many ads in the Winona paper letting people know he sold stationery, wall paper, window curtain rollers, and special attention to furnishing Sunday School Books. In 1873 the Winona Bible Society moved their books into his store.
In 1868 John organized the first meeting of the Winona County Sunday School Association. It was held in St. Charles and all who attended returned on the railroad for free. He continued to be secretary of the organization for the next decade.
At a temperance meeting in 1875 at the Presbyterian Church, John made a characteristic earnest speech. He considered himself honored on being called to be the mouthpiece of all temperance women in Minnesota. He urged everyone to activity in the cause to close the 75 saloons in Winona.
In 1874 the people were poor on the west end and they could not pay the mortgage. At that time First Methodist Episcopal church paid the bills and put them under their wing as a "mission" church. Then in 1877 the deed was handed over and Olive Branch Methodist Church (later McKinley) was independent.
Later when the new McKinley Methodist Church was dedicated in 1914 Rev. McKinley spoke highly of John Bally, the real founder of Olive Branch. He said he was a bachelor who loved all children. McKinley said he wasn't consulted about naming the new church; he said the honor belonged to John Bally, not him. John trampled all over the county organizing Sunday School in neglected neighborhoods; a missionary who knew the Master's word.
Whatever happened to John Bally? The February 9, 1901 Winona paper had this notice. "John Bally, former Winona resident, is now at St. Peter Asylum, is in very critical condition and is not expected to live." He is buried in Woodlawn Cemetery, Winona. The gravestone dates are 1822-1901.
Compiled by Charlotte Litchy from reading the online newspapers of Winona Republican Herald and the early history of McKinley Methodist Church 2008 booklet.
In 1874 First Methodist built a chapel at the corner of Broadway and Sioux and called it Olive Branch Mission. Olive Branch Methodist Church was organized April 4, 1877 with 47 members. First Methodist (Central) handed them the deed. An unknown donor gave a large pulpit Bible.
By March 1882 they raised $700 to enlarge the parlor. Within a month they decided to build a new church similar to Wesley that was built in 1881. W. Gage & Co. was paid $3,265 and had 90 days to build it. The old church sold for $325 and was moved to Dr. L.A. Kelly's lot near the Plow Factory. The new church was dedicated October 15, 1882.
The March 1888 revival meetings were held for a week at Olive Branch. Many came to the altar seeking the "pearl of great price." Services were held at 2:30 and 7:00 daily; Tuesday 7:00 was for women only. The April 1909 revival was held in a large tabernacle constructed for the event and it was torn down afterwards. Of the 4000 who attended, 954 converted and put their church choice on a paper. Olive Branch gained 50-60 members that year.
A variety of social events were held: apron fair, cap social, music and literary social, ribbon social, handkerchief sale, gypsy social, and basket weight social. Most were ways for the young people to meet. For example, the young ladies brought baskets containing supper and young men bought their partners for supper by paying so much per pound of their weight. For the apron social each girl made an apron and necktie. She wore her apron. The neckties were in sealed envelopes and sold to a boy for 25 cents. Each boy found the girl and took her to supper. People came to the gypsy social in gypsy costumes. There were fortune tellers, witchcraft, solos, duets, and instrumental music.
Because housing was a huge problem for the pastors, many left their families behind and boarded. Rev. Hambly began a parsonage program and in 1895 he moved into the parsonage at 610 West Broadway.
By 1896 attendance was so large that chairs were placed in the aisles and parlor doors thrown open.
Martha McCarl was one of the old members who spent her life in service to God. Her obituary read, "To converse with her for a short time was to be admitted to an antechamber of God."
However, by January 1900 Central received a plea from Olive Branch to help with their finances. Due to decreased membership, money was scarce for the $500 parsonage mortgage and needed repairs, resulting in a debt of $1300. Like a parent, Central paid the debts. It was largely due to their pastor, Rev. McKinley. When he burned the mortgage all the debts of all Winona Methodist churches were paid. While it burned the people sang the long doxology.
1902 was the Silver Jubilee memorial service led by Rev. McKinley. In those 25 years they had 900 members, no scandal, loyal workers, and 13 pastors. Olive Branch also had the only choir of children. The 32 in the choir were led by Mrs. Beyerstedt.
Pastors as a rule did not get paid well. For example, Rev. Russell received a salary of $750 with a rent allowance of $250 per annum in 1909. That same year he made the newspaper headlines when he was preaching as usual on August 17. During the sermon he discarded his cuffs and coat due to the heat. So catching was the move for comfort that the men in the pews did the same!
In 1913 plans were made for a new church at a new location: the corner of Broadway and High. It was to be a brick Tudor style building 50'x80' and could seat 600. It needed to be an ornament and provide utility to the West End. A gym, kitchen, and dining room were to be in the basement. The budgeted cost was $25,000. On March 16, 1914 Bishop Quayle gave a sermon and within 20 minutes $21,185 was pledged for the new church.
On January 21, 1915 the Olive Branch Church was sold. The deed stipulated that the property never be used for anything except residences. A merchant tailor bought it for $2,200. He was to tear it down and use the material to erect two residences.
The last function of the old church was when seventeen youth performed "The Merchant of Venice Modernized." It had five acts and lasted two hours. Afterwards the church pews were removed and put in the basement of the new McKinley Church.
On April 13, 1915, while the church was being torn down, worker J.W. Freer dropped 45' and broke his sacrum bone, separated thigh bones from vertebrae and had possible internal injuries. He fell heavily and just at the place where he struck the floor there was an opening into the basement and through this his lower limbs were forced. His upper body remained above the floor line and his head fell forward and got a bad gash. He was unconscious when the doctors arrived. He recovered at home and in June his body cast was removed; he had healed well.
Olive Branch had 18 pastors in 37 years. Rev. McKinley (1900-1903) and Rev. Thomas Hambly (1894-1897) were the favorites. Hambly's bible class of 60 gave him a large farewell attended by over 300 people. Hambly was said to be a man of push and vigor.
Compiled by Charlotte Litchy from the Winona Republican-Herald newspaper, Winona Daily Republican newspaper, and the 2008 history booklet of McKinley United Methodist Church.
The first church was a wooden structure at the corner of Fifth and Liberty built in 1860. The congregation grew fast and the building was enlarged several times. In 1900 a second church was built at the corner of Main and Sanford. One member gave seven thousand dollars towards the new building. It was a stone structure with the auditorium at the corner, Sunday School was held on east side, and social rooms were in the basement. Dedication was April 21, 1901.
On Easter Sunday after church was over in 1901 fire broke out. The church was repaired and a parsonage added east of the church.
Mrs. Catherine Zander came to church on April 2, 1902, and was stricken with a stroke as she entered. She died Tuesday as a result.
Membership soon reached 100. In 1910 it was decided to have the second and fourth Sunday sermons in English. By 1919 all sermons were in English.
Debates became the feature of the Men's Club in 1916. Both men and women could attend. One topic was "Resolved: That Country Life is Preferable to City Life." The orchestra played at that debate. Another more popular topic was "Resolved: That Elective Franchise Should be Granted to Women." All those present thought they should be allowed to vote.
It was decided to rename the church Main Street Methodist Church. The name German Methodist Church was misleading since all of the services were in English. Central Methodist was also on Main Street two blocks north.
There was a decrease in membership and increased financial obligations. The German conference urged a merge with Central. Rev. A Potthoff preached the last sermon there on October 1, 1922.
In 1926 the church was sold to Christian Science Church.
Wesley Methodist was dedicated October 20, 1881. In spite of bad roads and pouring rain many came to hear Rev. McKinley of Central Methodist. The building and lot at the corner of Fifth and Hamilton cost $4,160 which included furniture, fence, and insurance. Wesley was the fourth church erected by the Methodists in Winona in the prior twenty five years.
The year's receipts in 1882 totaled $103 and the expenses were $100. The library had 250 books. Average attendance was 115 with 150 in Sunday school.
Six years later, in 1887, a parsonage was built costing $1,400.
The Wesley pastor also had to preach at Homer and Minnesota City each Sunday. In 1895 the pastor asked not to preach all three churches. Wesley had one of the best growths in attendance in town.
November 1903 was a big month. Wesley got electricity and a furnace. The pastor said "There's no need to stay home as the church is now heated."
Wednesday evening prayer meeting was popular among young people. The young men's orchestra of violin, cornet, and piano played music.
November 1908 headline was OLD MAN DISAPPEARS. Elisha Bundy was a 73 year old Civil War Veteran. He and his brother were farmers in South Dakota and came to Winona to retire. One evening they left their home to visit a friend. At the intersection David realized Elisha was missing. He searched in vain and went to Wesley where they attended. A meeting was in progress. Wesley members and police searched several hours. It was as if the earth had swallowed him up. A day later an old man was found lying on the ground near the Milwaukee tracks in Minnesota City. He was attempting to eat grass. Sheriff Parr was called but not alarmed as drunks were frequently reported. A second call came and he went out. The coroner thought sudden dementia and the cause of death was exhaustion due to exposure. The funeral was at Wesley.
Rev. W. E. Thompson in 1909 said he believed church suppers and ice cream socials should not pay for his salary and he wouldn't accept money raised that way. This became quite the topic in area churches. That year the Christmas offering had a $1000 bill put in the offering plate.
In 1909 the building at Fifth and Hamilton was replaced with a new building in the east end at the corner of Fifth and Carimona. Then, in the 1910s, many of the Winona churches curtailed summer services. It was called the "quiet season." Many of the pastors had a vacation in July and August. Some churches were locked a month or two. Others switched pastors with a nearby church for a month to continue Sunday services.
In 1913 the very interesting Rev. W. C. Rice came from Fergus Falls. He was 73 years old when he became Pastor here and stayed two years. What makes him interesting is his past. He was a pastor at: St. Charles, Plainview, Wabasha, Rochester, Redwing, St. Paul, Zumbrota, Lake City, Faribault, Hastings, and finally Fergus Falls before he came to Winona. Between his time and Redwing and St. Paul he also was a farmer, a newspaper editor, Minnesota's first dairy commissioner. He was also on the board of trustees of Hamline University and knew most of the faculty. Rev. Rice also wrote a historical sketch of Hamline University (his alma mater) and its connection with the Minnesota Conference since the early days.
World Temperance Sunday was in June 1913. The Sunday school lesson and songs were all about total abstinence, which is the only safe and sane temperance method. In Sunday school pledges were signed and certificates distributed.
In 1915 Pastor Rice became ill, and church was cancelled for three weeks. Shortly afterwards Rev. Rice retired. No appointment was made for Wesley Methodist at the conference. The church closed the end of September 1915. It was largely due to the decline of the lumber industry, which affected membership and financial support. Many of the former members of Wesley became affiliated with Central.
Central Methodist made a special effort to bring students of Wesley up in a body on Rally Day on October 9, 1915. Wesley students were requested to meet at their church at noon sharp and automobiles came to convey them to Central Methodist Sunday school.
Mrs. Marion Fay was a charter member of Wesley, admitted at age 11 on probation and was a Methodist ever since. She was born 1831 on a small New York farm, came to Wisconsin, and wed William Hubbell. After he died she and her children and her parents moved to Winona. She wed Daniel Fay two years later and had nine children in total. At age 88, she fell in her kitchen and broke her hip and was confined to bed. She died 1919.
The last of the early Methodist churches became part of the commercial east end. Tony Zabrocki purchased the Wesley church. He used the basement for personal dwelling. This church was diagonally across the street from St. Stanislaus school. Its Liberty Theater sat 400. The ceiling was 20' high. Two years later the theater was enlarged. Today it is a residence.
Compiled from the online Winona Newspapers by Charlotte Litchy 2020