In-Person Worship on Sunday Mornings
In person: Join us at 10:30 a.m. every Sunday for worship. We are located at 114 West Broadway in Winona, Minnesota. Handicapped parking and access to the building are through the rear entrance that is adjacent to our parking lot.
Livestreamed: Our worship service is livestreamed on Sunday mornings at 10:30 a.m. on our YouTube channel.
Expert on Trauma-Informed Ministry to Visit Wesley
On March 16 – 19, Wesley UMC will be hosting international author, teacher, and one of the great inspirers of a new reformation of Christianity, Dr. Elaine Heath, to teach us about the need for churches to become communities of healing and hope in the midst of endless trauma.
Friday, March 17 Working through Abuse and Trauma to Arrive at Joy. Dr. Heath will share her own story, much of which is captured in her latest book entitled Loving the Hell out of Ourselves (available on Kindle through Amazon). Dinner – 6 p.m. Program – 6:45. Please RSVP an approximate number for dinner by March 13 by calling 507-452-6783 ext. 1 or emailing [email protected]
Sunday, March 19: Dr. Heath will conclude her time with us by sharing in our worship service, which begins at 10:30 a.m..
This amazing opportunity is funded through a grant from our Minnesota Annual Conference. For more background on Dr. Elaine Heath's ministry, go to https://www.elaineaheath.org To read endorsements of her work, go to https://www.elaineaheath.org/endorsements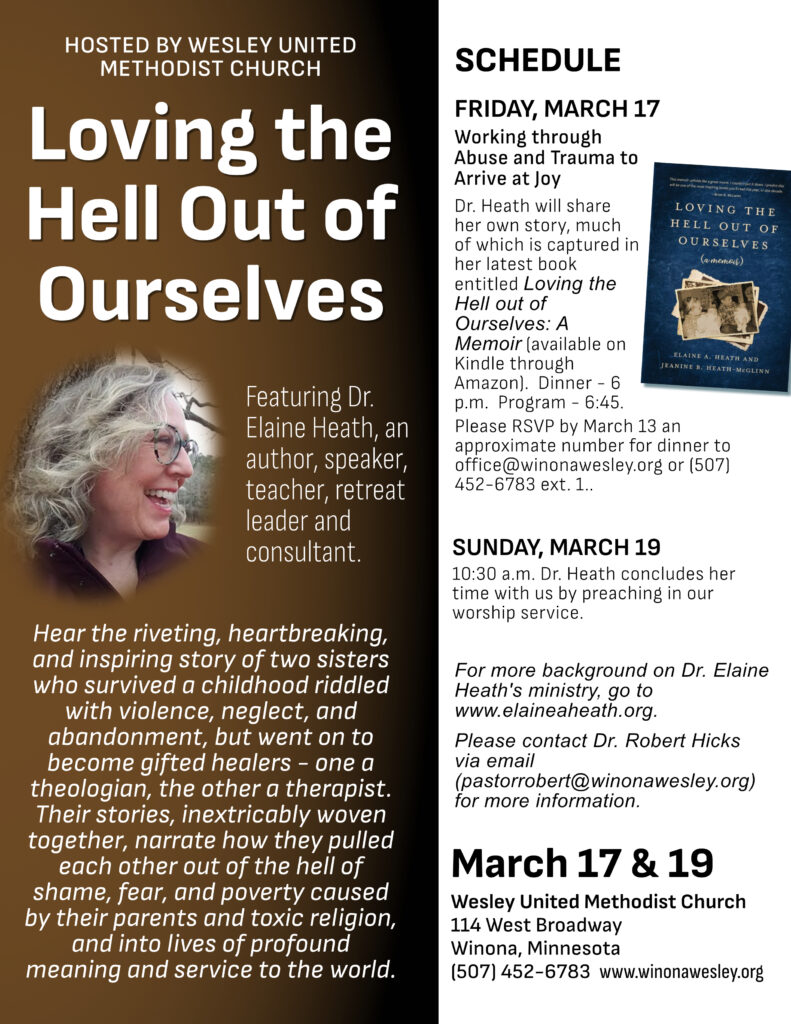 Easter 2023 Worship Schedule
Palm Sunday (April 2), 10:30 a.m.
Maundy Thursday (April 6), 6:30 p.m.
Easter Sunday: Sunrise service at Homer UMC, time TBD. Easter service at Wesley, 10:30 a.m.
Good Friday (April 7), 6:30 p.m.
"The Gathering" at Wesley
The Gathering is an informal time to gather for a meal and fellowship, typically on the first Wednesday of each month. The next Gathering will take place on March 29 with a meal at 5:30 and program at 6:00. Join us and be refreshed!
Souper Tuesday
The Souper Tuesday community meal occurs every Tuesday. Serving time is from 11:30 a.m. through 12:30 p.m. Doors open at 11:00 a.m.
Souper Tuesday takes place every Tuesday, with certain exceptions for holidays and other scheduling considerations. Weather note: If Winona Area Public Schools is delayed or cancelled due to weather, Souper Tuesday will be cancelled that day.
"No Place Left to Hide" Presentation
Wesley's Monthly Newsletter
---
Livestreamed Worship from March 19, 2023
Visit our YouTube channel to view worship from March 19, 2023.
---
Wesley United Methodist Church / 114 W. Broadway, Winona MN 55987 / 507.452.6783 / email: [email protected]